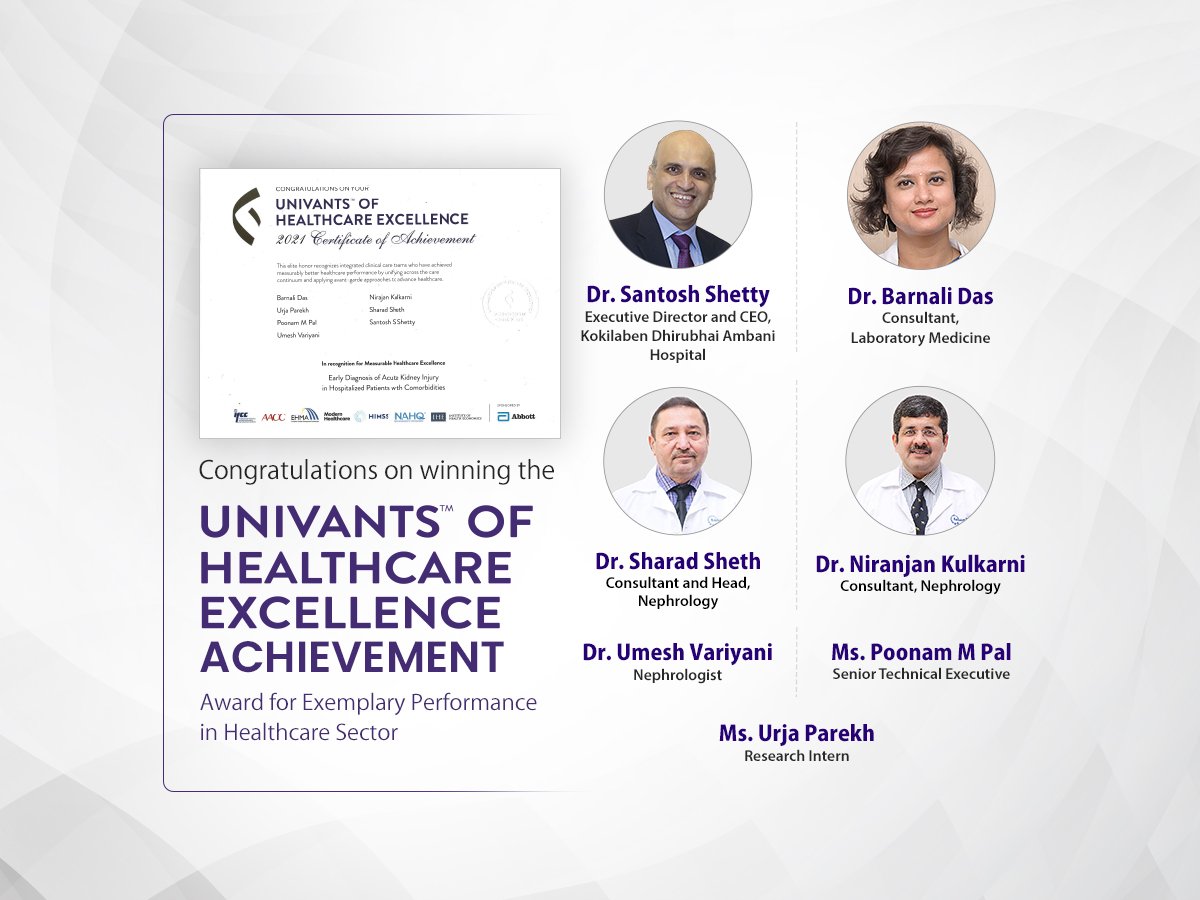 Kokilaben Hospital receives the Univants of Healthcare Excellence Certificate of Achievement
Kokilaben Dhirubhai Ambani Hospital & Medical Research Institute, Mumbai, India wins UNIVANTS of Healthcare Excellence Award for Exemplary Performance in Healthcare Sector.
Dr. Santosh S Shetty, Exectuive Director and CEO, Kokilaben Hopsital, Dr. Barnali Das, Consultant, Laboratory Medicine, Dr. Sharad Sheth, Consultant and Head, Nephrology, Dr. Niranjan Kulkarni, Consultant, Nephrology, Dr. Umesh Variyani, Nephrologist, Ms. Poonam M Pal, Senior Technical Executive, and Ms. Urja Parekh, Research Intern.
This recognition of Achievement is for the project conducted by Biochemistry & Immunology Team on "Early Diagnosis of Acute Kidney Injury in Hospitalized Patients with Comorbidities."
KOKILABEN DHIRUBHAI AMBANI HOSPITAL & MEDICAL RESEARCH INSTITUTE, MUMBAI, INDIA is honored to be recognized as one of the 7 teams of achievement for 2021. This is the first hospital and healthcare institution from India recognized for this achievement.

The UNIVANTS of Healthcare Excellence Program is founded by the International Federation of Clinical Chemistry and Laboratory Medicine (IFCC), AACC (American Association for Clinical Chemistry), EHMA (European Health Management Association), Modern Healthcare, Healthcare Information and Management Systems Society (HIMSS), National Association of Healthcare Quality (NAHQ), and the Institute of Health Economics (IHE); each in partnership with Abbott.

The 2021 submissions included hospitals, commercial laboratories, reference laboratories and clinics. Applications included best practices across key areas of unmet needs across the world, including emerging and established markets. An independent, international panel of judges, representing leading specialist societies, institutions and associations from various medical disciplines, reviewed a few hundreds of applications. This team is recognized with the Univants honour for the second time.